Sustained Manufacturing Difficulties Demand Digital Transformation
May 2022
After two tumultuous years, it briefly seemed the flurry of global challenges for manufacturers would ease in 2022. However, pressure continues - Bloomberg recently reported that manufacturing activity has fallen to its lowest levels since 2020.
Regaining productivity while operating in the so-called "new normal" clearly demands new solutions for both the near- and long-term. At Kinta, we've identified three key reasons for the continued decline in manufacturing activity, and we believe they point to serious investment in digital transformation as the most appealing solution available - both for resilience and for sustainable growth.
Compared to the disruptions of 2019-2020, the challenges of 2022 are more diverse. First and foremost, as consumer demand roars back, the manufacturing world faces the twin problems of inflation and dramatically increased transportation costs due to rising fuel prices. On top of that, the war between Russia and Ukraine has further strained energy costs and the availability of auto parts, particularly in Europe. Finally, continued Covid outbreaks in China have once again proven the fragility of global supply chains and the US's reliance on its overseas trading partners. 
During the pandemic, we spoke of the world "returning to normal" pre-pandemic activity levels, but the new normal is structurally different from the world we knew before. 3M's CEO believes that we will be dealing with uncertainty for the "foreseeable future." Manufacturers are accepting that the fragility of supply chains, the unpredictability of material availability and the challenge of labor shortages are here to stay. 
This time presents a unique opportunity for manufacturers to strategically consider the right investments that can drive them to success in the current environment. An EVP in Strategy and Excellence at Flex predicts that "the industry will see an influx of investment in automation and digitization" in 2022, pointing to the fact that Industry 4.0 tools have the capability to take your factory to the next level in terms of speed, efficiency and achieving KPI goals.
So what is the best next step forward for your facility? How do you determine what the right investment is for you? Most of what will be feasible comes down to your team's data literacy, as we discussed in a blog last year. Whether you choose to automate manual assembly, install robotic vision, invest in predictive maintenance technology or AI and ML tools, every switch from paper to digital brings your factory closer to becoming a true smart factory. The goal is to obtain the capability of not just handling challenging environments, but excelling in them.
If your data still primarily lives in Excel spreadsheets, first consider implementing an ERP system or data warehouse to better digitize and aggregate your data sources. If shop floor processes are still manually tracked, perhaps a Manufacturing Execution System (MES) is the right option. If your schedules are still being built on paper or in Excel, a digital scheduling tool can help optimize this process. As you build this infrastructure and capture additional data, you can further reduce waste by keeping accurate data and being able to quickly react to changes on the factory floor.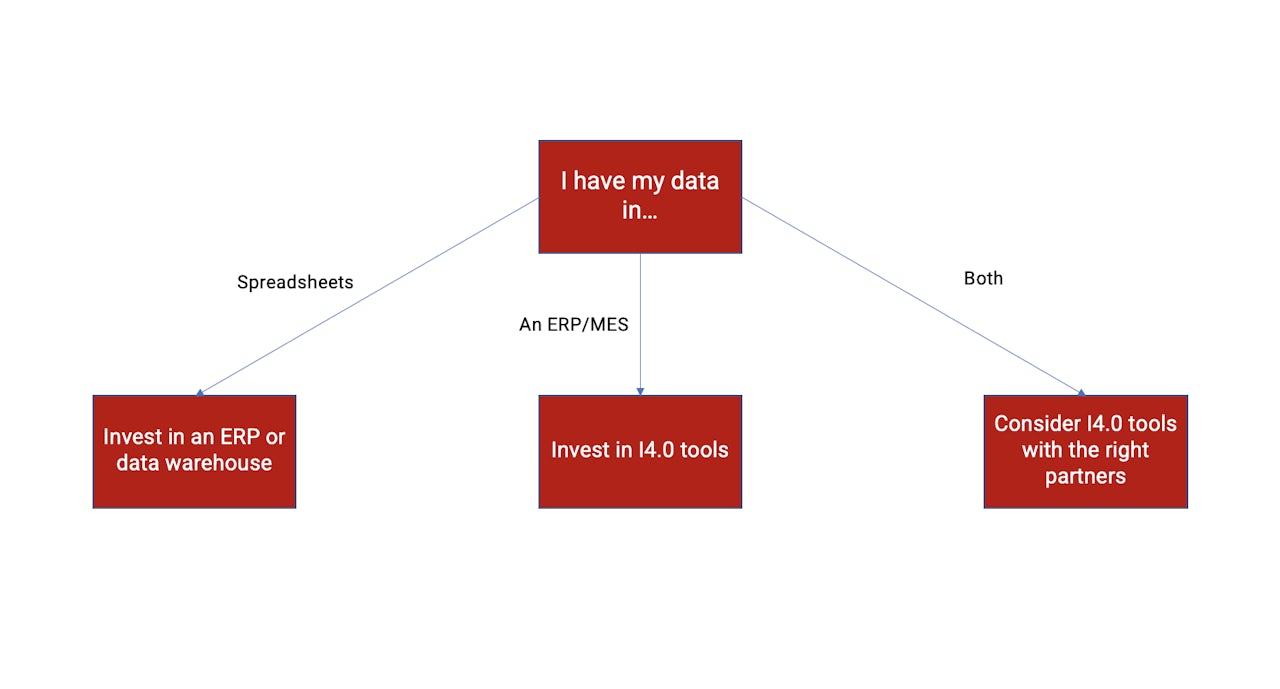 After Identifying the project that is right for you, it can still be challenging finding the right implementation partner. Ideally, you want to find a player who can collaborate on making strategic decisions and investments to ensure that your actions will result in greater resiliency. The right partner will meet you at your data literacy stage, help you achieve greater data cohesiveness, and ultimately bring true, sustainable value to your facility. 
At Kinta, we work with manufacturers in multiple stages of data literacy: we help clients move from spreadsheets to our intuitive and interactive interface, but we also ensure clients with sophisticated ERP and MES systems are leveraging these rich data sets to drive actionable operations and get the most out of their factories and often constrained resources. 
Whether you are a manufacturer seeking to reduce time spent on scheduling, or a manufacturer who wants to allocate their scarce resources optimally, Kinta can help find the best ways to do that. If you are interested in learning more about where you are in your digital transformation journey and how Kinta can help you take the next step, make sure to reach out through the Request a Demo button.