Closing the manufacturing data literacy gap
Over the past decade, factory managers widely equipped their factories with sensors, cameras and other technology to monitor their machines. According to a 2019 Markets and Markets report, US investment in the Industrial Internet of Things is projected to rise to $45.3 billion in 2022, from $12.6 billion in 2019. This trend creates incredible opportunities  for  process improvements, but difficulties in data integration and interpretability, which leaves this potential value untapped. 
Technology adoption and data use comes in three stages. First, sensors and monitors enable access to data. Second, factories achieve data coherence throughout the whole facility by structuring their databases. Lastly, factory operators work in tandem with their data to optimize their operations and drive insight.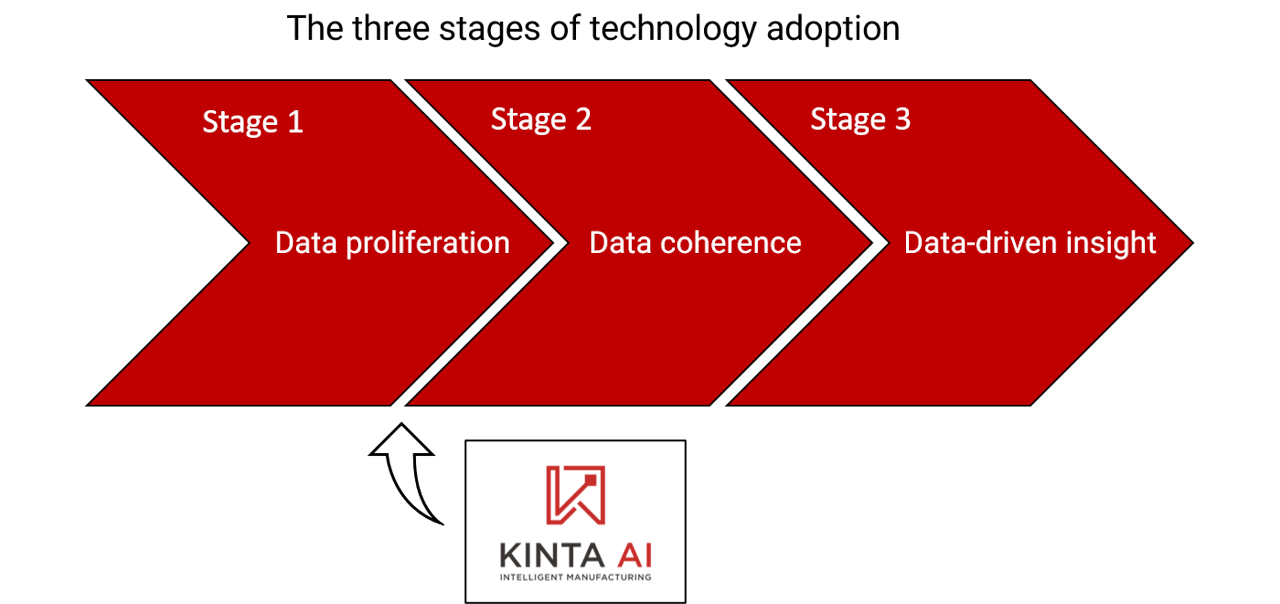 Unfortunately, facilities rarely surpass the first stage. Having access to data is not the same as achieving data literacy and being able to leverage it in actionable ways. Manufacturers understand the importance of leveraging data, but it "doesn't necessarily mean they are fully exploring the realm of strategic possibilities made possible by digital transformation," according to a study by Deloitte. Manufacturers end up "using advanced technologies for near-term business operations—at least initially—rather than truly transformative opportunities."
Firms that coherently structure the wealth of data they capture can improve response time to unexpected events and reduce waste through efficiency gains in inventory and materials planning. According to the MAPI foundation, Procter and Gamble was able to save $1 billion annually in supply chain costs through successful digitization. Unstructured data collection turns potentially fruitful IoT and connectivity projects into siloed databases without business, leading to low return on investment. Imagine a forklift driver who scans a QR code for inventory management, adding to his workday with no measurable business impact. 
Eren Yilmaz, Director of Industry 4.0 Innovation at Stanley Black & Decker, refers to the lack of data structuring as "technology myopia." In order for a factory to progress beyond the first stage of technology adoption, tangible business goals need to drive the plan for data collection.
---

In order for a factory to progress beyond the first stage of technology adoption, tangible business goals need to drive the plan for data collection.
Truly building your organization around data requires thinking about data formally, but it also requires operational expertise to interpret the content of the data files. Often, those who use the data and those who own and manage the data are in separate organizations. The two roles are unable to determine whether the data accurately represents the conditions of a facility from their individual perspectives.
At Kinta, we often encounter factories with unstructured or inconsistent data collection. At one factory, whenever a new machine was purchased, the new cycle time would not be added to the official table in the ERP. As a result, the records became unusable. Having an accurate model of a factory is critical for seamless operations, because new planners can use the structured data right away without fishing for context from other stakeholders.
Overcoming technology myopia and unlocking the second stage of technology adoption requires ensuring that IT, production planners and factory operators align on the purpose of their data collection and integrate data-driven decisions into their regular workflows. One way to empower these stakeholders is to use software to structure data and to translate information into an intuitive interface.
Kinta is an AI company that is dedicated to driving impactful data coherence for manufacturers by aligning all stakeholders to the client's vision of full digitization. In making data fit together, we allow for the data to work together. Kinta's flagship offering, backed by a powerful and flexible data structure, is optimizing production plans based on business goals set by the users.
The coming years are pivotal for Industry 4.0 as the technology to leverage the collected data matures. Kinta is excited to be at the forefront of this innovation, driving organizational evolution toward unified operations.